Whether you're celebrating the holiday with a loved one, yourself, or a friend, we can all get some enjoyment from the various pieces of popular intellectual property associated with Valentine's Day.
Did you know roses account for over four percent of issued plant patents? The very first plant patent issued by the USPTO was the Climbing or Trailing Rose, Plant Patent No. 1, granted in 1931 to Henry F. Bosenberg of New Jersey. Red roses are the flower most often sent on Valentine's Day and Fred H. Howard of California, received Plant Patent No. 953, for an early hybrid tea rose, on June 20, 1950. Its flower is described as rose red, very appropriate for Valentine's Day.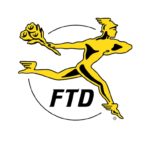 One of the most recognizable names in the floral industry is Florists' Transworld Delivery, Inc. ®, also known as FTD.  FTD has a trademark on its symbol, a mythological character Mercury, which is the Latin version of the Greek god Hermes.  The FTD mark depicts Mercury, or "Mercury Man," delivering flowers. They have also trademarked their phone number 1-800-SEND-FTD®, Registration No. 1848732.
For those with a sweet-tooth, Dove's famous Valentine's Day Chocolates have been in production since 2005 and became a registered U.S. trademark in 2008. And of course, no one can forget chomping on Sweethearts®, Registration No. 2172266.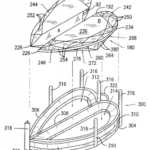 Jewelry is another popular gift on Valentine's Day. Such jewelry options include the TRIPLE HEART JEWELRY WITH DIAMOND OUTLINE, which was designed by Pascal Mouaward in 2012, and the HEART SHAPED DIAMOND CUT HAVING HEARTS AND ARROW PATTERN, covered by the utility patent U.S. Patent No. 8,353,181, issued in 2013.  In 2002, Ami Haimoff patented a new method for creating a heart-shaped diamond, METHOD OF MAKING A HEART-SHAPED DIAMOND, covered by utility patent U.S. Patent No. 6,434,805. Haimoff's patented process includes cutting and placing two pear-shaped diamonds into a side-by-side setting to create a heart-shape.
The majority of Valentine's Day-themed products seem to be accompanied by an endless number of jewelry-related commercials.  Many of the catchy jingles and phrases heard in commercials also have their own have intellectual property protection.  For instance, Kay Jewelers' "Every Kiss Begins with Kay"® is protected via Registration No. 2602439.  Jared the Galleria of Jewelry protects the slogan "He Went to Jared" with Registration No. 4321229.  Zales has also trademarked its slogan "Zales the Diamond and Valentine Gift Store."
For Valentine's Day, we leave you with these parting words from Charles M. Schulz, American cartoonist and creator of the comic strip Peanuts, "All you need is love. But a little chocolate now and then doesn't hurt."
Happy Valentine's Day from all of us at Suiter Swantz IP!
---
Suiter Swantz IP is a full-service intellectual property law firm providing client-centric patent, trademark, and copyright services. If you need assistance with an intellectual property matter and would like to speak with one of our attorneys, please contact us at info@suiter.com