On this day in 1877, the United States Patent and Trademark Office caught fire. While the building was repaired, the fire remains an important part of USPTO history.
The fire at the USPTO office on September 24, 1877, in Washington D.C. erupted and destroyed 80,000 models and 600,000 drawings. Luckily, no patents were completely lost. While the building was constructed to be fireproof, many of it's contents were not. This fire is one of several disastrous fires at the USPTO.
While the fire began in the room that held the patent models, it is not known why the fire started. One guess is that it was a combination of collected chemical fumes creating a potential fire hazard. The office held a considerable amount of flammable material and the roof was constructed of wood, which led the fire to move quickly throughout the building. A model of the original Eli Whitney cotton gin was among the models destroyed.
This fire was more far more destructive than the first USPTO fire in 1836. The 1836 fire destroyed the patent office and an estimated 10,000 patents were destroyed.
The models destroyed in 1877 included metal-working machines, agricultural implements, carriages, and wood-working machines. In the south and west wings of the office, there were 100,000 models that were not damaged. In spite of the losses from the fire, there were duplicates of drawings and no patents were damaged. Despite the loss of the upper floors, the patent office soon reopened.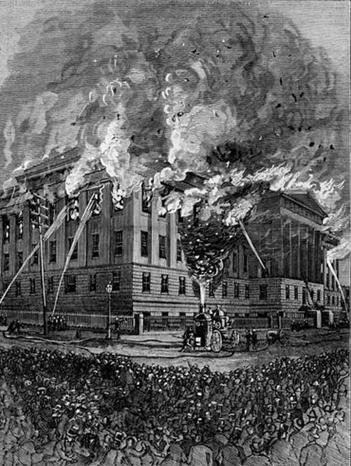 ---
Suiter Swantz IP is a full-service intellectual property law firm providing client-centric patent, trademark, and copyright services. If you need assistance with an intellectual property matter and would like to speak with one of our attorneys, please contact us at info@suiter.com.