The Madness of Basketball Related IP.
As the NCAA Basketball tournament is about to begin, we wanted to share some basketball-themed intellectual property. As you're rooting for your favorite team, take a look at these important pieces of basketball intellectual property!
Patents
Basket Ball: US Patent #1,718,305 (1929)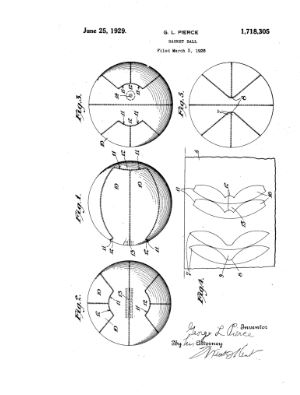 This patent for the "basket ball" was granted to G.L. Pierce in 1929 and versions used today still strongly resemble this early version.
Fun Fact: Until the late 1950's, basketballs were actually dark brown! A college basketball coach, Tony Hinkle, thought the color was too dark for fans to see. So, with the help of the Spalding company, orange became the new color. Players used this version in the 1958 NCAA "Final Four" and the rest is history!
Basket Ball Shoes: US Patent #1,962.526 (1934)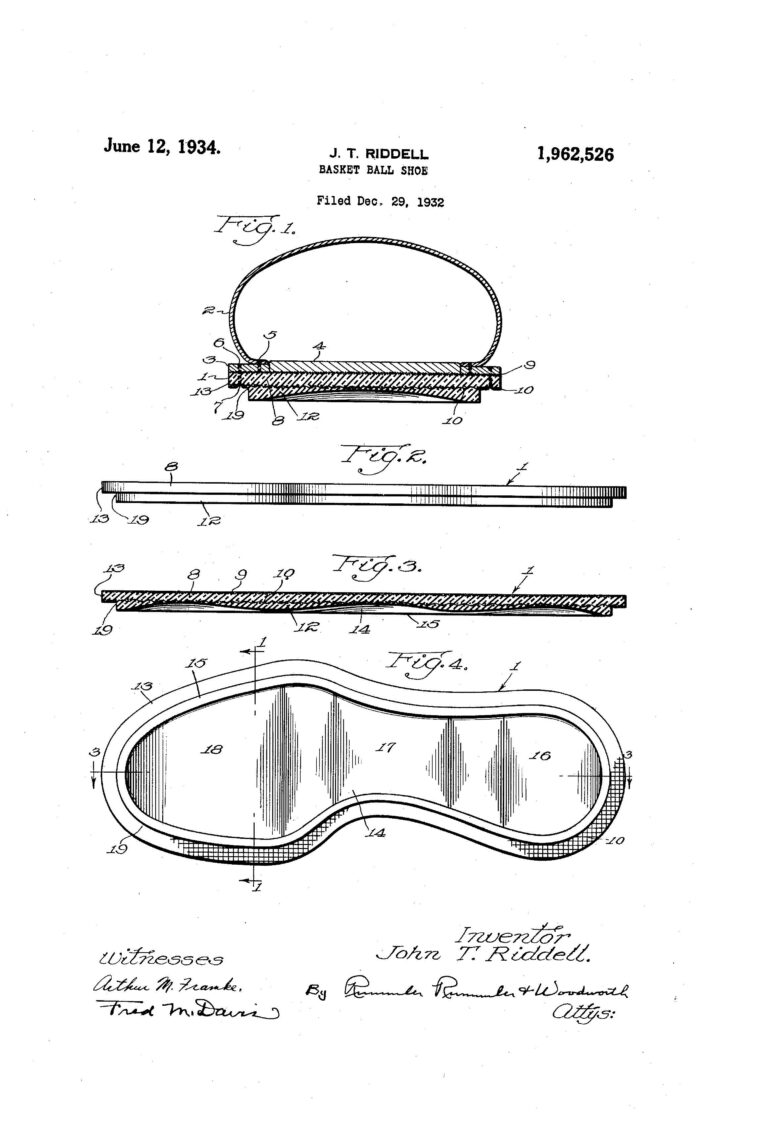 How would anyone play basketball without the right shoes? John T. Riddell obtained this patent in 1934 on a new design for "basket ball" shoes. While outdated and simple when compared to modern shoes, this unique design was meant to reduce fast wear and tear.
 Basketball Goal: US Patent #2,053,635 (1936)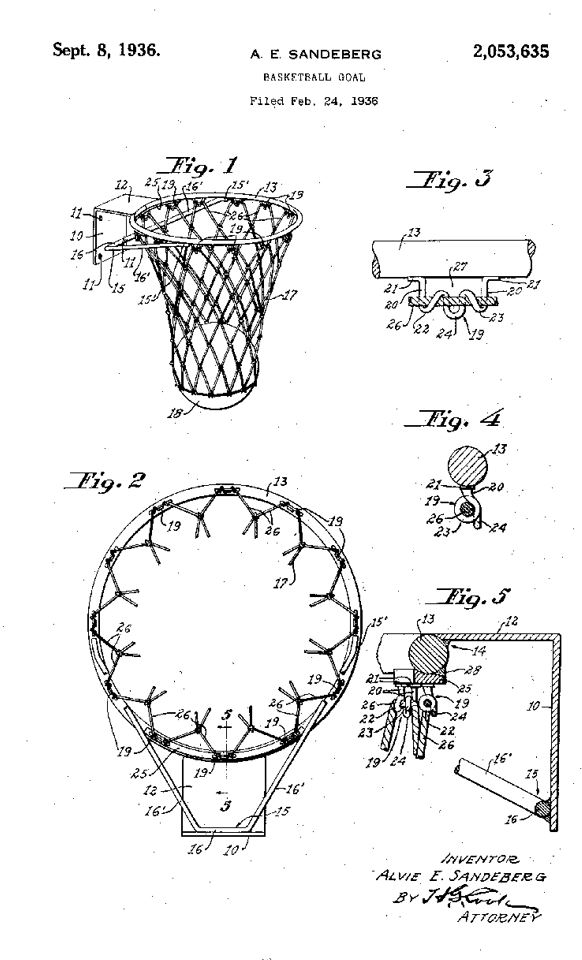 There were many early drafts for a basketball net. However, Alvie Sandberg patented one of the closest versions to the modern-day net in 1936. Considering this exact design is still used in basketball all over the world, I'd say, after many failed attempts, this invention has proved to be successful!
Trademarks
Here are also some famous NCAA-themed registered trademarks!
March Madness®
The trademark for "March Madness" is owned by the NCAA, the governing body for college athletics in the United States. The NCAA received their trademark in August of 2001.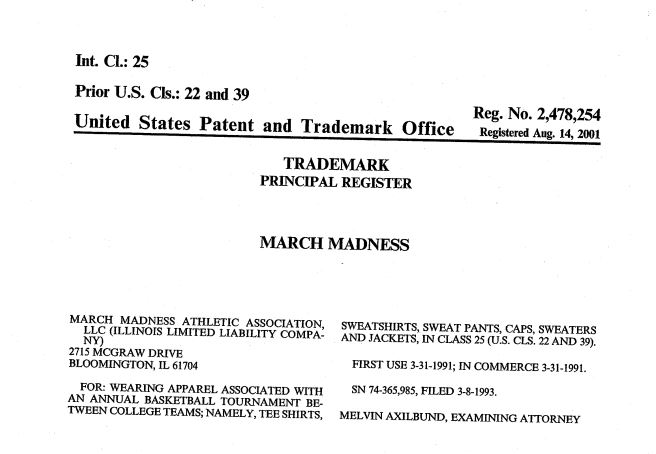 NCAA Sweet Sixteen®
The NCAA received their official trademark registration for "NCAA Sweet Sixteen" in March of 2018. The NCAA vigorously defends its trademark and has taken legal action against those who use the phrase without permission. This includes companies that try to profit off of the popularity of the tournament by selling merchandise or offering promotions using the phrase "Sweet Sixteen."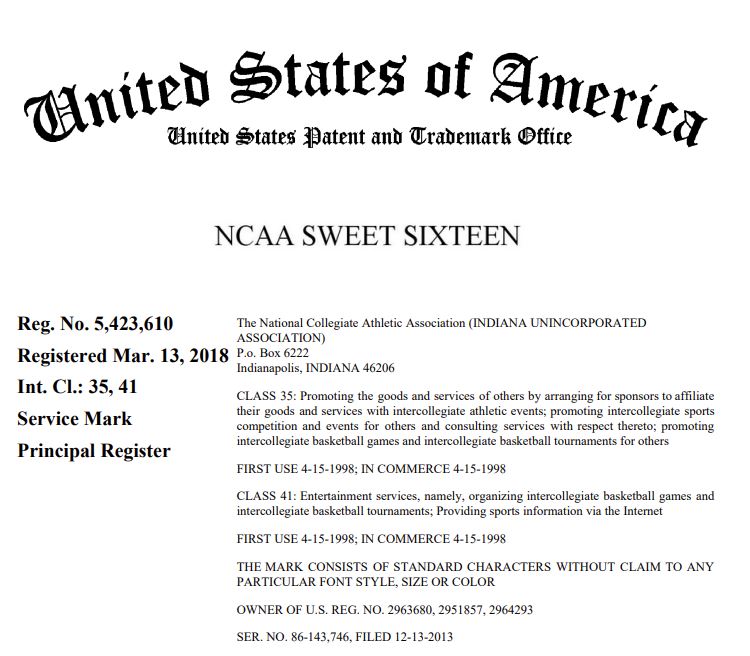 Elite Eight®
The NCAA received the official trademark for the phrase "Elite Eight" in January of 1997.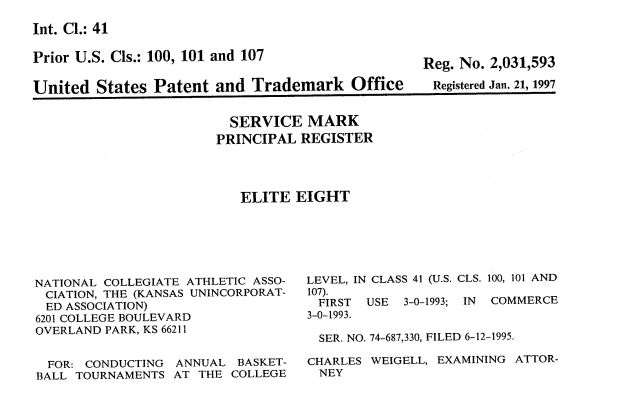 Final Four®
The NCAA received their registered trademark for the phrase "Final Four" in May of 1988.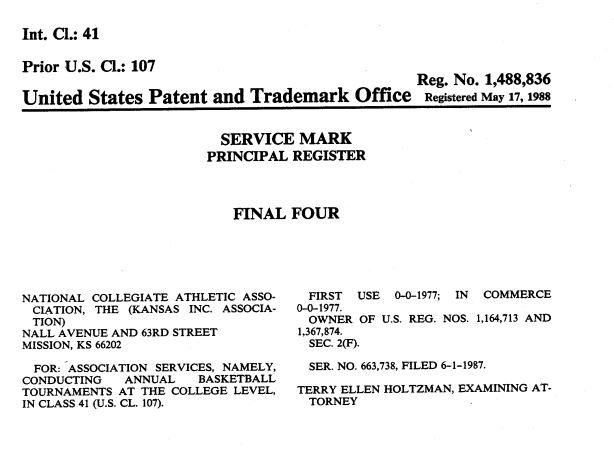 The Big Dance®
The phrase "The Big Dance" is a trademark that is owned by the NCAA. They received the registered trademark for this phrase in December of 2003. This trademark is important as it represents the final game in the March Madness season.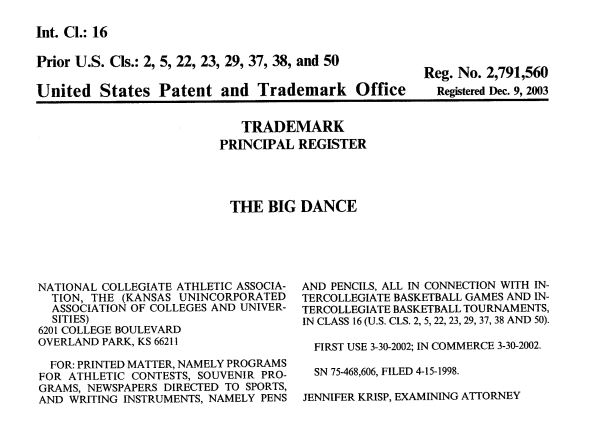 ---
Suiter Swantz IP is a full-service intellectual property law firm providing client-centric patent, trademark, and copyright services. If you need assistance with an intellectual property matter and would like to speak with one of our attorneys, please contact us at info@suiter.com.