Ian Sannes is a patent attorney at Suiter Swantz IP. Ian graduated with honors from North Dakota State University, receiving his B.S. in Mechanical Engineering, and received his Juris Doctor from the University of Minnesota Law School.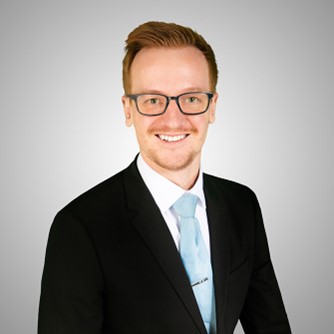 ---
Patent Marking: When Do Infringement Damages Begin to Accrue?
Patent owners who sell physical products must understand the significance of patent marking in determining the date from which they can claim patent damages. For patented products (as opposed to methods), if a product lacks proper marking, the damages calculation begins on the date the infringer receives notification of potential infringement, rather than the date of infringement.
This can significantly decrease damages awarded and the leverage that patent owners have during settlement negotiations. In some cases, an infringer might operate for years before receiving notice and could quickly withdraw their product from the market, owing little or no patent damages. Therefore, proper patent marking is crucial for maximizing a patent portfolio's value.
General Rule
The general rule for obtaining patent damages states that one can seek damages from the infringement date, up to six years prior. See 35 U.S.C § 287(a). This rule allows for complete recovery, subject only to the statute of limitations. However, this full recovery benefit may not apply in certain circumstances.
When a patent owner sells a product with proper patent marking, they can claim full recovery for damages from the infringement date. However, releasing a product without proper patent marking forfeits the full recovery benefit when 35 U.S.C § 287 comes into effect. Patent marking provides "constructive notice" to the public, and if a product released into the market lacks proper patent marking, then "actual notice" (such as a cease-and-desist letter or a lawsuit) must be provided to initiate the liability period.
 To whom does the patent marking statute, 35 U.S.C § 287 apply?
There are specific situations in which 35 U.S.C § 287 would not apply, and a patent owner could still claim full recovery for damages. For instance, if the patent owner does not make or license a product, such as with an "idle patent" where there is nothing to mark, and therefore no risk of 35 U.S.C § 287 applying. Additionally, if the patent is not direct to a "patented article," such as with method claims or product-by-process claims that protect a product with a process, full recovery benefits would still be available.
To ensure the right to pursue full recovery, even for diligent patent marking owners, it may be advisable to include at least one product-by-process claim for a product. This ensures that, even when a licensee fails to properly mark a product as promised, the patent owner retains the right to claim full recovery for damages.
However, nuances exist when an infringement suit involves both a product claim and a method claim.
Under current case law, courts analyze all claims (not just product claims) under 35 U.S.C § 287 when at least some of the claims asserted are product claims. See, e.g., Soverain Software L.L.C. v. Amazon.com, Inc., 383 F. Supp. 2d 904 (E.D. Tex. 2005). However, a patent owner is not required to file a suit on all infringed claims.
Moreover, if the patent owner only asserts the method claims when filing the suit, then 35 U.S.C § 287 cannot be applied. See, e.g., Crown Packaging Tech., Inc. v. Rexam Beverage Can Co., 559 F.3d 1308 (Fed. Cir. 2009). In another example, if a suit is filed for infringement based on method claims of Patent A and product claims of Patent B, then 35 U.S.C § 287 could be applied to Patent B, but not Patent A.
 Proper Patent Marking
Under 35 U.S.C § 287(a), to properly mark patented products, one must affix the word "patent" or the abbreviation "pat." along with the patent number or an address of an internet posting. See 35 U.S.C § 287(a). The text must be legible without a magnifying glass. See, e.g., Trussell Mfg. Co. v. Wilson-Jones Co., 50 F.2d 1027, 1030 (2d Cir. 1931). If the product is too small or difficult to label, the text can appear on the product packaging.
The belief that marking a product with the phrase "Patent Pending" is necessary while a patent application is pending is a myth. Marking or advertising with the phrase "Patent Pending" does not establish the date when liability starts. This differs from provisional rights under 35 U.S.C § 154(d) for recovery before the patent grant, which generally may be granted against a substantially identical product once the infringer receives actual notice (e.g., a proper cease and desist letter) after the publication date of the pending application.
 Other Considerations
Navigating patent law in the United States can be complex. For instance, under 35 U.S.C § 287, if a product is not correctly marked, an infringer might not be liable from the infringement date until they "receive" actual notice, regardless of whether they knew of their infringement before they started infringing. In contrast, in the United Kingdom, actual and constructive notice standards resemble those in the U.S., but an infringer may also face liability if they knew or should have known of their infringement.
In many countries, including the U.S., accused infringers may only face liability if they were negligent. However, because patents are publicly accessible, accused infringers are considered negligent by default. In Canada, knowledge or notice is not a requirement for infringement, but courts may reject recovery claims if they deem the infringement innocent.
Given the severe consequences of failing to properly mark patented products, remembering the importance of proper patent marking and method-based claim drafting strategies, both domestically and in many foreign countries, is crucial.
Suiter Swantz IP is a full-service intellectual property law firm providing client-centric patent, trademark, and copyright services. If you need assistance with an intellectual property matter and would like to speak with one of our attorneys, please contact us at info@suiter.com.