Can the Department of the Air Force and Netflix each have marks for the term "Space Force"?
It is said that life imitates art far more than art imitates life, but the two have been increasingly blended via television and cinema offerings for over a century. This blending has resulted in multiple instances where television and cinema rights might interfere with real-life rights, and vice versa. One such instance is a developing issue surrounding potential intellectual property rights being granted to the Department of the Air Force (DAF) and Netflix Studios LLC (Netflix).
On December 20, 2019, the United States Space Force (U.S. Space Force) was established as the sixth branch of the United States Armed Forces and one of the eight United States uniformed services, a span of nearly two years since the idea was first proposed by President Donald Trump during a speech given on March 13, 2018. The U.S. Space Force was a re-designation of the Air Force Space Command established on September 1, 1982, a major command of the DAF. Whether by design or happenstance, Netflix green-lit a new comedy series in January 2019 which focused on the creation of a U.S. Space Force. The show, Space Force, was first available for streaming on May 29, 2020.
A brief discussion on trademarks and service marks
Before discussing any relationship between the U.S. Space Force and Space Force, a brief discussion on select portions of United States law with respect to trademarks and service marks may be in order:
Trademarks are territorial, and with states, countries, and regions of countries (e.g., the European Union) have separately-enforced trademark laws – an applicant for a mark will need to file in each territory in which they would like to enforce their mark.
The United States system is a first-to-use system, though marks may be filed based on actual use (§ 1(a), or 15 U.S.C. § 1051(a), filing) or based on an intent to use within a particular time frame (§ 1(b), or 15 U.S.C. § 1051(b), filing). Select foreign territories are also first-to-use, but there are a number of first-to-file foreign territories as well.
Marks in United States law are separated into forty-five (45) classes, with 34 classes for goods (trademarks) and 11 classes for services (service marks).
Determining whether a mark is being infringed upon includes a consideration of a "likelihood of confusion" between marks, with relevant factors including, but not limited to, similarities of the marks and the nature of the goods and services related to the marks.
There are defenses to infringement that include uses of parody, especially when the uses are considered in context with First Amendment rights and copyright law.
Can the DAF and Netflix each have marks for the term "Space Force"?
When considering the U.S. Space Force versus Space Force, select marks would likely not be of issue.
Specifically, the DAF could be granted marks under any classes covering or related to the operation and services provided by the U.S. Space Force, while Netflix could be granted marks under any classes covering or related to the production of and the providing of the television series. Defenses of parody and the like aside, there should not be much concern of likelihood of confusion between these granted marks and each party would be able to operate within a sphere granted by their respective mark(s). [1] In addition, to further ensure a safe operating space, an individual or organization (e.g., such as Netflix) wanting to use any mark(s) granted to the DAF could request to do so through the Air Force Licensing program, part of the Air & Space Forces Intellectual Property Management Office. [2][3]
A more difficult issue, however, is where the parties' spheres start to intersect. One such area may include any classes covering or related to merchandising rights. Depending on the mark(s) granted (e.g., words, symbols, logos, graphics, or the like), it might be more difficult to determine whether the DAF or a third-party (e.g., such as Netflix) is selling a cup, or a t-shirt, or some other piece of branded merchandise.
A fight for merchandising rights
A search for live registrations for "Space Force" filed with the United States Patent and Trademark Office (USPTO) as of June 15, 2020 finds eighteen applications including "Space Force" and variants thereof dating from March 13, 2018. One, a trademark for a beer, has been granted a registration number. [4] Four applications are considered dead, having been abandoned. Thirteen applications are still live and pending, of which twelve appear to be directed to possible overlapping interests. Each of the twelve pending applications were filed as a § 1(b) intent-to-use application; however, only two applications were filed by the DAF – a March 13, 2019 [5] filing and a May 20, 2020 filing. [6]
Based on these numbers, then, there are ten pending applications filed by third-parties, either coincidentally or perhaps in response to the original announcement on March 13, 2018, including five filings that predate the Government's March 13, 2019 filing date. In addition, each of the twelve pending applications were filed on all manner of goods including, but not limited to, clothing, signage, dishware/barware, toys, office and school supplies, electronic devices, food and beverage items, and other merchandise that could be branded with a "Space Force" mark(s) granted to the DAF or a "Space Force" mark granted to a third-party, potentially resulting in confusion between the mark holders [7]
Per the publicly-available file wrappers for each case, all twelve pending applications are either under examination by the USPTO, rejected by the USPTO, [8] suspended by the USPTO due to earlier-filed applications, or entering the appeals process following a rejection – as such, the DAF has not yet lost anything as of June 15, 2020, as far as rights to United States marks are concerned (aside from labeling their own beer).
A note: Although numerous news outlets have focused on Netflix having a stake in the matter with United States trademark filings, [9] Netflix does not appear as an owner for any applications including the phrase "Space Force" despite being listed as the owner for at least 270 live and dead applications with the USPTO, leading to a possible confusion about who actually has a stake in the matter within the United States. Netflix, however, does have both pending applications and active marks in Mexico, Australia, Canada, and in the European Union; the DAF has no international filings at this time.
As this story continues to progress, it will be interesting to see whether the DAF will be granted a mark for "Space Force" for classes related to merchandise, or whether an application filed by a third-party prior to the DAF will instead be granted.
Suiter Swantz IP is a full-service intellectual property law firm providing client-centric patent, trademark, and copyright services. If you need assistance with an intellectual property matter and would like to speak with one of our attorneys, please contact us at info@suiter.com.
---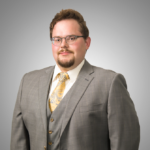 Jon S. Horneber is a patent attorney with Suiter Swantz IP. Jon holds a B.S. and M.S. in Mechanical Engineering from the University of Colorado Boulder. Jon received his Juris Doctor from the University of Nebraska College of Law.
Jon joined the Firm as a Law Clerk in 2014. After his 2016 graduation, Jon began working as a patent attorney for the Firm. As a Patent Attorney, Jon prepares and prosecutes U.S. and foreign patent applications.
Jon is admitted to the Nebraska and Colorado Supreme Courts and the U.S. District Court, Districts of Nebraska and Colorado. He is also registered to practice before the United States Patent and Trademark Office.
---
[1]

 a note that this is not the first instance of this occurring. For example, Paramount Pictures filed for marks related to the television show "J.A.G.," which were eventually abandoned, with none registered by the USPTO. It would be interesting to learn whether licensing agreements were obtained from the Department of the Air Force.
[2]

 The Department of the Navy has a similar licensing office (

https://www.navy.mil/trademarks/licensing.html

), and C.B.S. having numerous active, pending, and abandoned marks for the television show NCIS. As with J.A.G., it would be interesting to learn whether licensing agreements were obtained from the Department of the Navy.
[4]

 Registration No. 5,608,716, filed March 13, 2018 http://tmsearch.uspto.gov/bin/showfield?f=doc&state=4804:rz6u9x.2.18
[5]

 Serial No. 88/338,255
[6]

 Serial No. 88/924,951
[7]

 See e.g., Serial Nos. 87/839,062 and 87/981,611, filed March 19, 2018; Serial No. 88/267,739, filed January 18, 2019
[8]

 Example rejections including a § 2(a), or 15 U.S.C. § 1052(a), rejection for consisting of or including matter that may falsely suggest a connection with the U.S. Government, its military and Commander in Chief.