Elizabeth Schultz is a patent attorney with Suiter Swantz IP. Elizabeth received her B.S. in Chemistry and a minor in Business Administration from Creighton University and her Juris Doctor from Creighton University School of Law.

---
On November 8, 2021, the Supreme Court Justices heard oral arguments for Unicolors, Inc. v. H&M Hennes & Mauritz, L.P.
This case asks the Supreme Court to determine whether Section 411 of the Copyright Act requires a district court to request advice from the Copyright Office when there are questions about the validity of a copyright registration but no evidence of fraud or material error.
Unicolors, Inc. ("Unicolors") sued H&M for copyright infringement in the United States District Court for the District of Central California, alleging that H&M's "Xue Xu" design is identical to Unicolors' "EH101" design. In February 2011, Unicolors filed an application with the Copyright Office seeking copyright registrations for thirty-one graphic designs, including the "EH101"' design. In the application Unicolors had allegedly inaccurately claimed that all thirty-one designs were published by January 15, 2011. Thereafter, in 2015, H&M began selling a jacket and skirt with a pattern design ("Xue Xu" design) virtually identical to that of Unicolor's registered "EH101" design.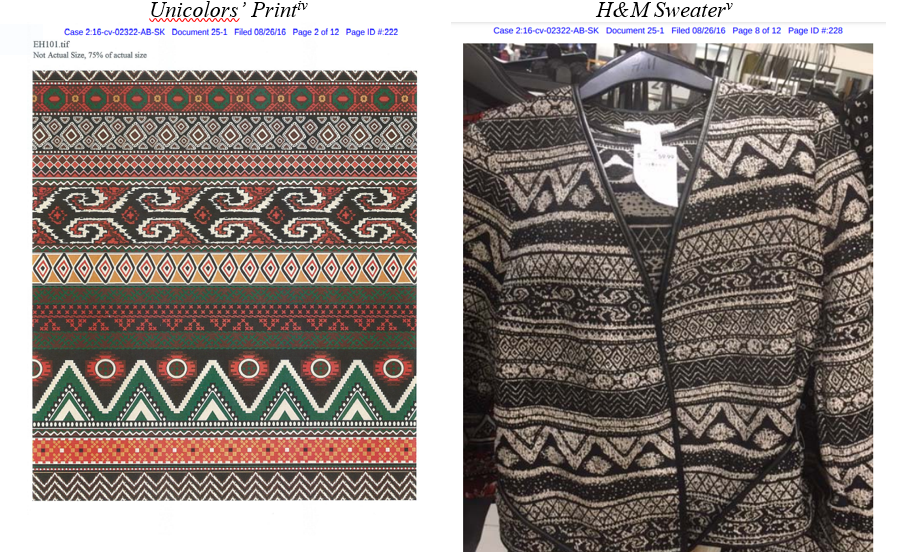 Following an unfavorable verdict, H&M filed a renewed motion for judgement as a matter of law, arguing that Unicolors did not hold a valid copyright because it impermissibly obtained its registration for "EH101" by inaccurately claiming that all thirty-one designs were published by January 15, 2011. The district court rejected H&M's argument and held that invalidation of a copyright requires an intent to defraud, and no such evidence was present in this case.
On appeal, the U.S. Court of Appeals of the Ninth Circuit held that mere generalized or "constructive" knowledge of an error in the registration application is enough to invalidate the registration.
The Justice's questioning during oral arguments suggests that the Court may favor Unicolors' more-stringent intent-to-defraud standard, rather than H&M's less-stringent standard.
Unicolors argued that Section 411(b) of the Copyright Act requires the infringer to have subjective awareness of the inaccuracy. Unicolors' argument relied upon the presumption that Congress considered it more important to give authors an effective remedy against copyright infringers than require perfect compliance with the copyright registration system. For example, Unicolors argued that the case law suggests that intellectual property rights are not stripped for a misunderstanding that is based on a legal misunderstanding. Unicolors' went on to point out that H&M did not cite a single common law case in which a court distinguished inadvertent legal mistakes from inadvertent mistakes of fact. Justice Sotomayor countered and questioned whether Unicolors' more-stringent requirement would allow copyright trolls to play the system.
H&M argued that Section 411(b) of the Copyright Act does not excuse mistakes or ignorance of law. H&M argued that if mistakes of law were excused then there would be no incentive for registrants to "engage diligently" with the Copyright Office. Unicolors' argued that H&M's standard would result in "a sport for infringers to try to find legal errors or any other sorts of errors in copyright applications, especially willful infringers who, like H&M, actually have no other defense."
A ruling in favor of Unicolors would give the Court an opportunity to reinforce the foundations of the copyright registration system. Stay tuned to find out how the Court rules.
Link to oral arguments: https://www.supremecourt.gov/oral_arguments/audio/2021/20-915
Suiter Swantz IP is a full-service intellectual property law firm providing client-centric patent, trademark, and copyright services. If you need assistance with an intellectual property matter and would like to speak with one of our attorneys, please contact us at info@suiter.com.