Suiter Swantz IP Co-Owner & Patent Attorney Matt Poulsen is teaching the University of Nebraska College of Law's "Patent Practice and Innovation Management" course once again this spring.
Matt helped introduce the specialized course to the Nebraska College of Law's curriculum in spring of 2019.  The course focuses on the life-cycle of patent-protected innovation and provides the opportunity for students to interact with real or simulated inventors and examiners. Students can also expect to gain an understanding of the nature and operation of patents, experience with patent searching, drafting and prosecution, and the strategic use of patents.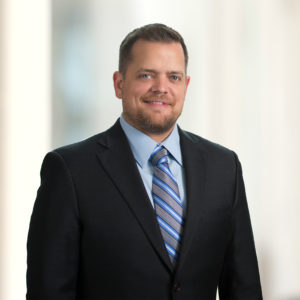 Matt is an alum of the Nebraska College of Law in Lincoln, NE. Prior to receiving his J.D., Matt obtained his Ph.D., M.S. and B.S. in physics from the University of Nebraska.
Matt represents clients including large Fortune 500 companies, universities, startup companies, and individual inventors. His practice is generally focused on IP procurement and protection, including U. S. and foreign patent preparation and prosecution, patentability and freedom-to-operate analysis and various trademark, copyright, and trade secret matters. Matt also advises clients with respect to various startup related activities, such as early-stage IP strategy.
---
Suiter Swantz IP is a full-service intellectual property law firm providing client-centric patent, trademark, and copyright services. If you need assistance with an intellectual property matter and would like to speak with one of our attorneys, please contact us at info@suiter.com